Nothing quite hits the spot in the morning like a stack of fresh pancakes. If you have your own bulk pancake mix around, you can whip up a batch in no time at all! Keep reading and we'll go over some of the tastiest ways to make your own homemade pancake mix.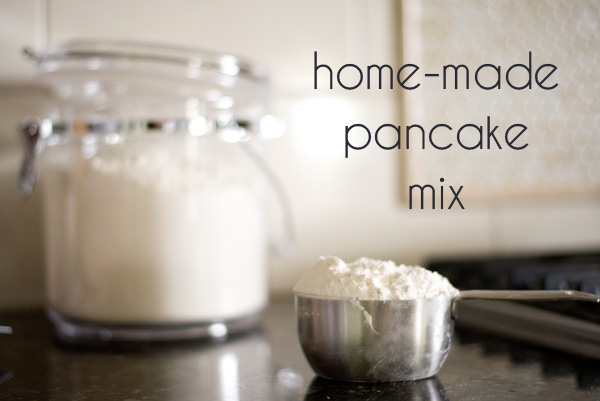 Why Make a Homemade Pancake Mix?
Bulk pancake mixes save you a lot of time when you're cooking breakfast because the dry ingredients are already mixed. All you have to do is add the wet ingredients and throw your pancakes on the griddle. Plus, they're fresher, more versatile, and often cheaper than buying frozen pancakes.
What You'll Need to Make Bulk Pancake Mix:
Flour (9 cups)
Sugar (1 cup, 2 tablespoons)
Baking powder (1/2 cup, 2 1/2 tablespoons)
Salt (6 teaspoons)
Milk (1 1/2 cups)
Butter, melted (3 tablespoons)
Two eggs
Vanilla extract (1/2 teaspoon)
Hot griddle
Cooking spray

You can use an alternative like butter to grease the pan to avoid burning or sticking

Large bowl
Airtight container
How to Make Bulk Pancake Mix
Creating Your Pancake Mix
To start, you'll want to create your pancake mix. This is a mixture of all of your dry ingredients together. Specifically, you'll want to grab a large bowl and add the flour, sugar, salt, and baking powder you gathered earlier.
Now, whisk these ingredients well. You want to make sure they're thoroughly mixed.
Once you're done, put the mixture in an airtight container until you're ready to use it. This will help keep your bulk mix fresh and ready for you when you use it for making pancakes.
For now, hold off on your fresh ingredients because the pancake mix will keep better if it's dry.
Anything I can do to save a few minutes here and there seems to be well worth it these days! And since we've been having pancakes quite frequently lately, I decided to whip up a batch of mix in bulk. I took our favorite pancake recipe from Joy of Cooking and sextupled the dry ingredients then combined it in a big bowl and poured it into a canister.
Preparing Your Pancake Mix for Cooking
Once you're ready to actually make pancakes with the mix, you can add your wet ingredients to the mix.
Don't mix this directly into your bulk mix, though! Instead, grab a new bowl and mix together your vanilla extract, butter, milk, and eggs. Once these are combined, you can add in 1 3/4 cup of the pancake mix you made earlier. Mix these well into you have a batter with all the ingredients fully incorporated.
It's worth noting that you can adjust the measurements in both this and the previous step depending on how many pancakes you want to make. This recipe makes about 10 to 12.
Cooking Your Pancakes
When you're cooking these pancakes, you'll want to start with a hot griddle. Make sure to take a moment to grease your griddle before you preheat it too. This will help you avoid problems like burning and sticking.
When you're making your pancakes, you'll want to use about 1/4 cup of your batter mix for each pancake.
Cook each side of the pancake until each one is lightly browned and serve as you please!
Side Notes
Now instead of having to get out the flour, baking powder, sugar, and salt as well as the different measuring utensils for each, I can just grab the mix and add it to the wet ingredients!
No more sacrificing taste for convenience when you make homemade pancake mix in bulk. It's so much, much, muchly better than the boxed stuff!
How to Make Bulk Pancake Mix without Vanilla
If you want to skip out on the vanilla in your bulk mix, that's fine! You'll need the following ingredients:
All-purpose flour (4 cups)
Baking powder (3 tablespoons)
Sugar (1 1/2 tablespoons)
Baking Soda (2 teaspoons)
Salt (1 teaspoon)
To create your bulk mix, combine all of the ingredients and store them in an airtight container like a mason jar until you're ready to use them.
To turn this mix into a batter, combine a cup of the mix with a cup of milk and an egg. Then you can cook it on the griddle like any other pancake.
How to Make Bulk Pancake Mix with Cinnamon
To add a cinnamon twist to your morning pancakes, you can start with your pancake mix. Gather these ingredients for the mix:
All-purpose flour (1 1/2 cups)
Brown sugar (1 tablespoon)
Cinnamon (1 tablespoon)
Salt (1/2 teaspoon)
Mix these dry ingredients together to create a dry mix. To create a batter, add 1 1/4 cup milk, an egg, 3 tablespoons of melted butter, and a teaspoon of vanilla extract.
How to Make Bulk Pancake Mix with Powdered Egg Replacement
For this recipe, you'll need the following ingredients:
All-purpose flour (6 cups)
Powdered buttermilk (1 1/2 cups)
Powdered egg replacement (1/3 cup)
Granulated sugar (1/3 cup)
Baking powder (3 tablespoons)
Baking soda (1 tablespoon)
Salt (3 teaspoons)
Mix these ingredients together and store them in a mason jar. Since you've already added powdered eggs and buttermilk, it actually makes it easier to convert the mix into a batter.
All you have to do is add water. Start with 1 1/3 cup of mix and a cup of water. If you notice the batter is a bit thick, you can add a little extra water to your recipe. Once you've nailed the consistency, you can add them to a hot griddle for a delicious breakfast.
What Can You Put in Your Pancake Mix?
As you're getting your pancake mix ready for breakfast, you might wonder if you can spice things up at all. Actually, there are quite a few treats you can add to your pancakes to elevate them such as fresh fruit or chocolate.
Don't forget, you can add toppings when you're done cooking too such as syrup or even more fruit!
How Thick Should Pancake Mix Be?
Getting the right consistency in your pancake mix is a key part of making a delicious breakfast. Even among different recipes, you should expect about the same consistency when it comes to the batter.
Pancake batter should be thick but not so thick that you can't pour it easily. You'll also want to make sure there aren't any clumps in your batter. These can signal clumps or lumps of ingredients that haven't been fully incorporated into the batter yet. Try letting your pancake batter sit for 15 minutes so the clumps can dissolve. If you overwork the batter, you'll end up compromising the taste and texture.
How Do You Store Homemade Instant Pancake Mix?
You want to store homemade instant pancake mix in a sealable container. This can make an option like a Tupperware or even a mason jar can work well to protect your stock.
Then, put the container in a dry, cool place until you're ready to use it. A cabinet or a pantry are great choices.
How Long Can You Store Homemade Pancake Mix?
A dry mix will usually last a few months if you properly store it in the right container in a cool, dry place. However, this only stands before you add wet ingredients to the situation.
Once you've fully made pancake batter, it has to be refrigerated and will only last up to four days in a sealed container.
Making bulk pancake mix can definitely make breakfast easier! Did you like our tutorial? Make sure to let us know in the comments and share this tutorial with someone you know who loves pancakes!
Homemade Pancake Mix in Bulk
Ingredients
9 cups flour
1 cup plus 2 tablespoons sugar
½ cup plus 2½ tablespoons baking powder
6 teaspoons salt
1½ cups milk
3 tablespoons butter, melted
2 eggs
½ teaspoon vanilla extract
Instructions
Whisk flour, sugar, baking powder, and salt together in a large bowl and store in an airtight container.
For a batch of 10-12 pancakes, combine milk, butter, eggs, and vanilla extract in a large bowl. Add a heaping 1¾ cup of pancake mix and stir just until combined.
Pour onto a greased hot griddle, using about ¼ cup for each pancake. Let cook on each side until lightly browned.