There's nothing quite like the smell and taste of a homemade pie straight out of the oven. However, overcooked pie crusts can easily become a bane to any home baker. To avoid this, we're going to take a minute to look at how to cover the edge of a pie crust with foil to make sure your crust does all your hard work in the kitchen justice.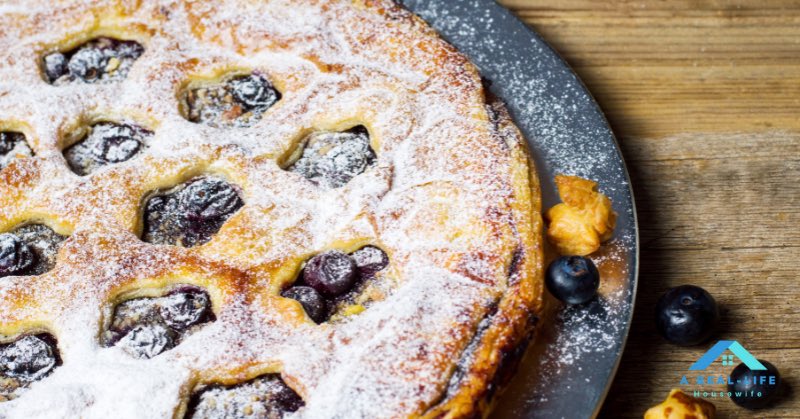 Why Do People Wrap the Edges of Pie Crust in Aluminum Foil?
You might be confused the first time you see someone start wrapping the crust of their pie in aluminum foil. However, it's a trick to help keep you from over-browning or even burning your pie crusts. Keep reading to learn how to use aluminum foil to make sure you get a flaky, delicious pie crust!
Today's tip comes from my sweet granny who was down visiting us this past weekend along with my parents and little sis.  We went to a play in which Clarence Gilyard, Jr. was the main character (Conrad McMasters on Matlock & "Jimmy" Trivette on Walker, Texas Ranger) and had dinner afterwards.
For dessert, I baked a pie (Marie Callender's all the way) at which time I consulted Granny on how to easily cover it's edges.  You see, the directions say to cover them with a strip of aluminum foil. So that is what I did – several 1.5 inch strips.
But, if you've ever tried this method, you know it doesn't work very well.
Here's what Granny's advice is:
What You'll Need to Cover the Edge of Pie Crust with Foil
Aluminum foil

For this trick, you'll want a sheet of aluminum foil that's at least a little bigger than your pie.

Scissors
Your pie

You'll want to have your pie constructed and ready to go into the oven when you start this guide.
How to Cover the Edge of Pie Crust with Foil
Step 1: Measuring Out Your Aluminum Foil
The first step is to get your aluminum foil ready. As mentioned earlier, if you're starting with a whole roll of aluminum foil, you'll want to measure out and pull off a sheet that's a little bigger than your pie. Remember, this definitely won't work if your aluminum foil isn't big enough because your pie won't fit.
Tear off a piece of foil slightly larger than the pie.

Step 2: Fold Your Foil
Now that you have your aluminum foil ready, it's time to start making the shape you'll need to cradle your pie. To start, very carefully fold the aluminum foil into equal fourths.
When you're done, you should be looking at a folding piece of aluminum foil that's only a fourth of the size you started with.
Fold it into fourths.
Step 3: Grab Your Scissors
Now that you've done this, it's time to create the opening for a pie. To do this, take your folded foil and cut an arc starting with one of the folded edges.
The concept here is that you want to remove a circle from the entire, unfolded sheet of aluminum foil.
Cut an arc from one of the sides with folded edges to the other.

Step 4: Adding the Pie
Once the foil is cut, you can unfold it again. If you've completed the previous steps correctly, you should see an open circle in the middle that fits the pie you made perfectly! All you have to do is slide the pie into the slot.
Then, before popping your creation in the oven, take a second to fold down the edges of the aluminum foil that are hanging over the edges of your pie so that the crust is neatly tucked in. After that, you're ready to throw your pie in the oven!
Pro Tip: A lot of pie recipes tend to tell you to add foil on your pie crust if it starts to darken a little too much. Yet, with this DIY pie crust shield, that could be hard with a hot pie. To avoid burnt fingers, add the foil first and keep it through the first 15 or 20 minutes of baking.
Open it up and place on pie.


Fold the foil over the edges and they are perfectly covered!

Typical pie instructions will say to put the foil on if the edges begin to brown excessively.  I find this hard to do mid baking when the pie is hot.  I think putting the foil on before placing it in the oven and keeping it on for the first 15-20 minutes is a much easier alternative!
How to Cover Pie Crust Edges with Parchment Paper?
Tear off a piece of parchment paper bigger than your pie and trace the shape of the pie on it. You can do this by gently laying the parchment paper over the pie to trace.
Fold and cut the parchment paper, the same way that we did with our aluminum foil pie crust shield.
Unfold the parchment paper and place the result over your pie crust edges. You might need to cut off excess parchment paper around the outer side of your pie crust.
How to Cover Pie Crust Edges with a Foil Pizza Pan?
Source: https://www.cuisineathome.com/tips/diy-pie-crust-shield/
If you don't have sheets of aluminum foil, a pizza pan made of foil can work in a pinch.
Since a foil pizza pan is already circular in shape, you don't have to worry as much about folding and cutting.
Instead, simply take a measurement of how big your pie is and cut a hole large enough out of the center of the pizza pan.
How to Cover Pie Crust Edges with a Spare Pie Tin?
Source: https://www.eatbydate.com/prevent-burnt-pie-crust/
If you bake your pies in aluminum disposable tins, you can use this as an alternative to grabbing a roll of foil too.
Much like using a flat, foil pizza pan, all you need to do is cut a circle out of the center.
Luckily, since this pan is already designed to fit a pie, you can get away with cutting out only the bottom, leaving the sloped walls.
From here, just turn the cut pie tin upside down and place it overtop the pie to cover the edges but leave the center of the pie vented for cooking.
How Do You Keep Pie Edges from Burning Without Foil?
There are a few ways that you can keep the edges of your pie crust from burning when you don't have any aluminum foil in on hand at all. For instance, we've already covered that you can swap out aluminum foil for parchment paper and you can invest in a ready-made and reusable pie crust shield as well.
These solutions are all a great way to call a tool into use when you're looking for a quick solution although certain recipe changes can work as well.
For example, it's handy to make changes such as taking the time to turn the pie partway through cooking, starting with a cool pie crust, or using an egg wash to brush the crust.
How to Protect a Pie Crust from Burning?
So, all in all, you have a lot of options when it comes to protecting your pies. The handiest and often quickest way to protect your pie crust from burning is to create a quick pie crust shield with aluminum foil although parchment paper or a manufactured pie crust shield will help too!
What is the Best Pie Crust Shield?
If you want a pre-made pie crust shield you can use over and over again, you might want to try an option like Mrs. Anderson's Baking Pie Crust Protector Shield. You can use this aluminum ring to protect your pie crusts on standard-sized pies of 9.5 to 10 inches.
How to Use a Pie Crust Shield if You Buy One
If you buy a pie crust shield, learning to use one is a pretty straightforward task. You don't need to do any of the legwork – all you have to do is place the crust shield over the crust of your pie!
Conclusion
Did you like our tutorial? Using aluminum foil to create a pie crust shield is a great way to make sure that your pie crust stays flaky, soft, and delicious while the filling finishes cooking. If you liked this guide, let us know and share this article with your baking friends!
We love Marie Callender's Razzleberry Pie, but today are trying the Lattice Peach.  Do you have a favorite?