Have you ever been adding the finishing touches to an almost perfect meal only to get distracted in hunting for a spice you need? It's easy for a spice cabinet to become a mess without the right organizational system. Keep reading to learn about a few options, including how a spice rack could help you or you can
check out GammaCabinetry
!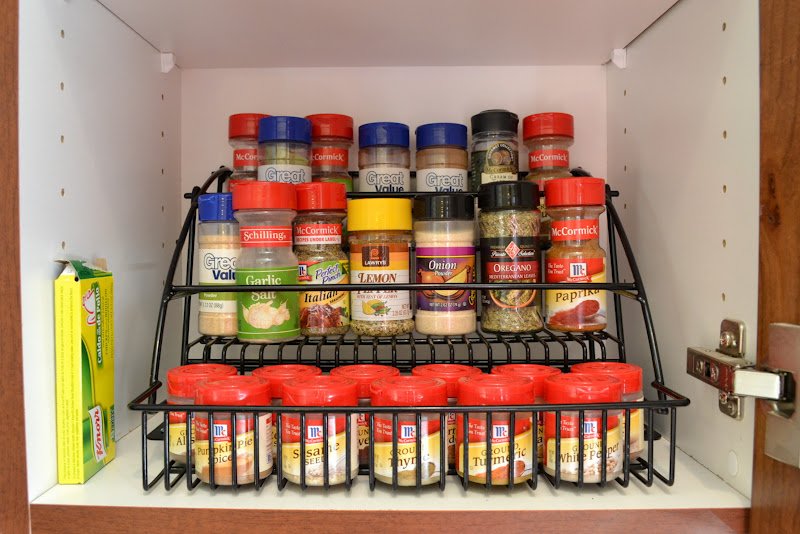 Organizing is quickly becoming one of my favorite things to do!  There is a great sense of satisfaction that comes from turning a messy unorganized space into one that is clean and free of clutter.
My most recent project was the spice cupboard.  Before I purchased a spice rack, all the jars were crammed in there on one level and it was hard to find what I was looking for.  Now, the bottles are much more visible and easier to locate.
How to Organize Spices By Type
You may want to organize your spices by which ones you use the most. For instance, keep frequently used spices like pepper, garlic powder, or any of your other favorites near the front of your organizational system.
Another option is to sort them by spices often used together. For example, keep spices that you use in dishes together a lot near one another so you can grab your favorite pairings at the same time.
One of the most efficient ways is to organize your spices by cuisine. For example, maybe you want to keep your spices together by common uses, types of cuisine, or even by your favorite options.
What You Need to Organize Your Spices:
A spice rack
Spices you want to store
This should at least include your most used spices since you'll want to be able to reach these easily and quickly when you need them.
Space for the spice rack
This can be wherever you find room but space in your kitchen such as space in a cabinet or on a countertop are great options.
How to Organize a Spice Rack DIY
Step 1: Get a Spice Rack
When you have a lot of spices to keep organized, one of the quickest and easiest ways to keep them organized is to use a spice rack. After all, these tools are made specifically to help you keep your spice containers in order.
You have a couple of options with spice racks too. Namely, you can decide whether you want your spices bottles on display or not.
If you do, you might want a spice rack that is designed aesthetically and helps display as well as store your spice jars. Usually, these are kept in a visible place in the kitchen even when you aren't using your spice cabinet.
On the other hand, if you want something that will simply offer spice storage that's out of sight and out of mind, you might want to look for something that fits on one of your cabinet shelves or hangs neatly on a cabinet door.
Step 2: Organize Your Spices
Once you have your spice rack, all that's left to do is to organize your spices. Yet, organizing spices can seem a bit intimidating.
You can organize your spices in a variety of different ways. For instance, you can put shorter spice bottles in the front and taller spice bottles in the back. This way, all of the labels are easy to read and grab at a moment's notice.
You could also opt to store spices with your most often used spices near the front. Much like the last method, this leaves them easier to see and quickly grab.
And to make things even more efficient, I have put the spices in alphabetical order.  This really cuts down on search time!  Now I just need to get matching glass jars, and my spice cupboard will be complete.
Step 3: Find a Place for Your Spice Rack
Once you have your spices organized, you just have to find a place to put them. As we mentioned earlier, you can easily place a spice rack in a cabinet, on a shelf, or even on some spare space on the counter.
Wherever you keep your spices in your kitchen, you need to make sure they're easily accessible while you're cooking. Since it's something that you use frequently, you won't want the hassle of hunting down your spices while you're in the middle of something.
A good rule of thumb to stick by is to keep your spices within reach or a few steps away from your oven. This way, they're handy when you need them most.
Other Genius Ways and Alternatives to Organize Your Spices
Use a Lazy Susan to Organize Spices
If you aren't familiar with them, a lazy Susan is a small, rotating tray with a variety of uses. Many people use them to serve food or even add condiments to the center of a table.
You can also organize your spices on a lazy Susan. This is a great choice because you can face the labels on your spices outward. In doing this, you can peruse your spices by simply turning the tray as you need to rather than shifting spice bottles around.
Lay Your Spices in a Drawer
When organizing spices, it's easy to think that you need to find the space to sit them all upright. Yet, you might not always have the cabinet space or even the interest in this method.
Alternatively, you can keep your spices in a drawer. With this method, you'll want to lay your spice bottles flat in the drawer with the labels facing up. Again, this will be easy to reference quickly.
If you want a little extra security keeping your spices in place, you can use a spice liner like this one by YouCopia. These offer a track to lay your spices down on to keep them from shifting around.
Keep Your Spices in Baby Food Jars
One challenge to storing spices is that your spices may not all be the same size. After all, you probably bought your spices over time and they aren't all the same brand and packaged exactly the same.
Especially for new parents with a surplus of baby food containers, these containers can help create a uniform option for your spices – just don't forget to add custom labels too so you remember what everything is!
Once you do this, your spices will be much easier to fit into a cabinet or drawer.
How Do You Organize Too Many Spices?
No matter what your organizational method is, you might wonder what to do if you have too many spices to fit into a rack or sit neatly in a drawer. So, what can you do?
First, it's a good idea to take a moment to prioritize your spice cabinets. You can use a countertop spice rack for the spices that you use the most and need to have on-hand.
Then, you can have a secondary storage spot in a cabinet or drawer. Here, you can put your extra spices or ones that you don't use as often, so they're organized and neat but available when you need them.
Where Should I Put My Kitchen Spice Rack?
As we've said, you have a few options as to where to put your spice rack. Let's take a moment to review a few of your options!
If you want your spices on display, the countertop is the best place for them or, alternatively, you could hang them on the wall or outside of the cabinet door.
On the other hand, spices often last the longest in a cool, dark place. This makes storing them in a cabinet a reliable choice.
How Do You Display Spices?
Like we discussed moments ago, one way to display your spices is to keep them in a rack on your countertop. There are plenty of different designs available so you won't have any trouble finding a spice rack that fits your decor style.
If you want an even more uniform look, you can put your spices in matching spice jars. As we talked about earlier, one option is to put your spices in empty baby food jars.
Conclusion
Did you like this guide? A spice rack can help you make sure that you're ready for anything in the kitchen. Let us know what you thought below and share this article with a friend!